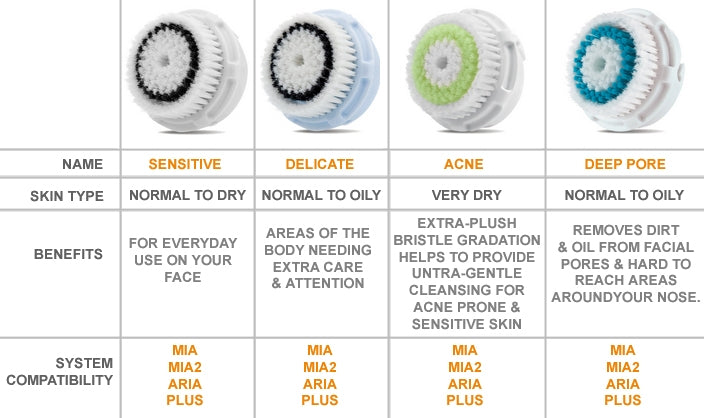 Clarisonic Twin Pack Brush Heads Deep Pore
• For Oily skin with enlarged Pores
• Replacement recommended every 3 months
Description for

Clarisonic Twin Pack Acne Brush Heads
Recommended for all skin types with enlarged pores, the Clarisonic Deep Pore Brush Head is engineered with graduated dual-action bristles to flush and dislodge oil and debris that clogs pores.
Clarisonic Brush Heads
Clarisonic Brush Heads made to specialize in certain skin types and treatments, and only Clarisonic brush heads are designed to work with the motion and frequency of the device. The brush heads are made with, quick-drying DuPont® Tynex® Supersoft Filament, providing a comfortable and gentle cleanse with rounded or textured ends on each bristle.
How Clarisonic Works
Skin cleansing is essential to promoting skin health, by unclogging pores, removing dirt, preparing the skin for deeper penetration of skin care products and giving your skin a soft and bright glow. Clarisonic has a patented sonic frequency that gently moves 300 times a second to release dirt and oil without scrubbing to allow a gentle cleansing that results in cleaner softer skin with a radiant glow.
Clarisonic Twin Pack Brush Heads Deep Pore